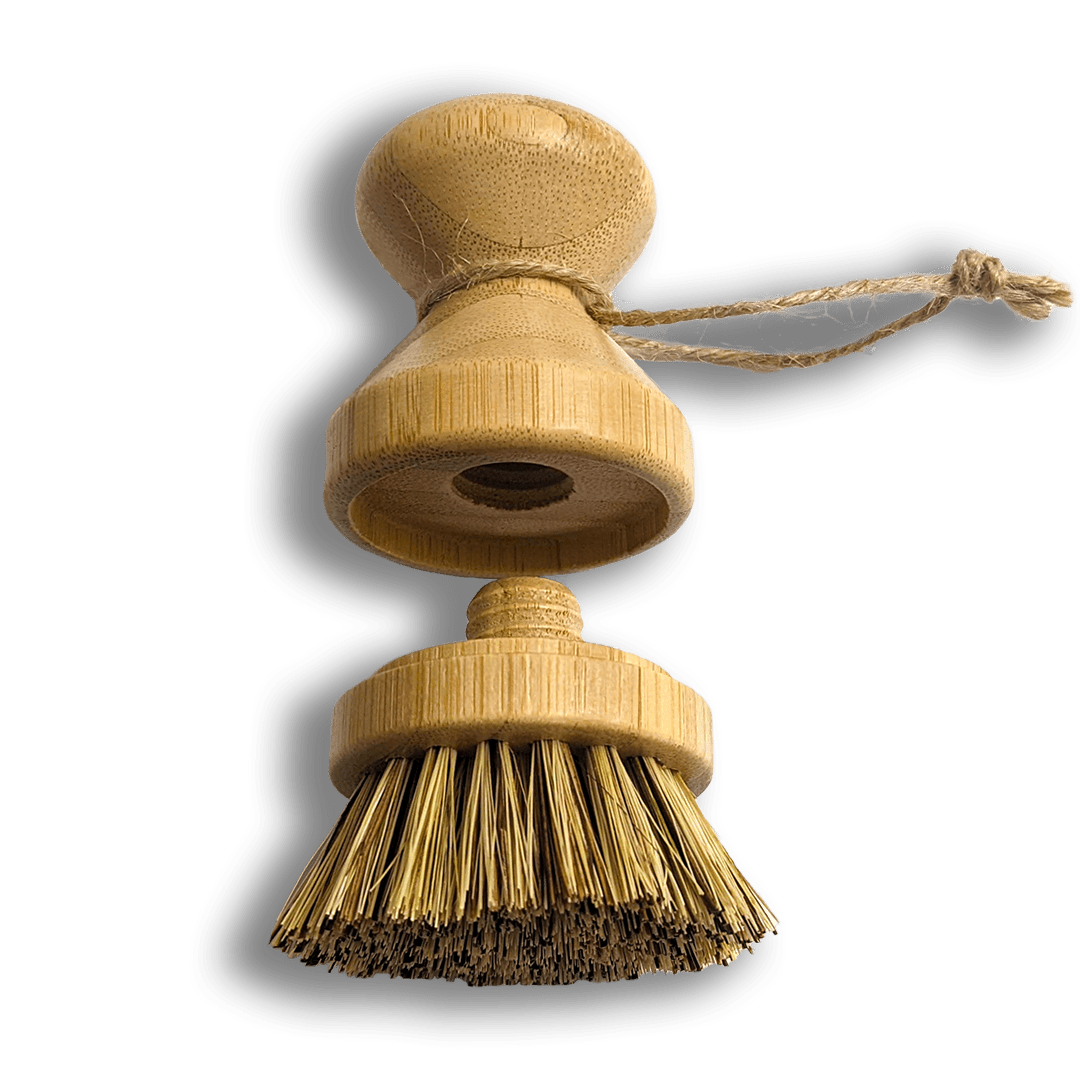 Modular Palm Pot Scrub Brush
---
---
 NEW DESIGN! NOW WITH REPLACEABLE SCRUB HEADS!
Plastic dish brushes end up in landfills and waterways where they break down into microplastics and pollute for hundreds of years. They also have a very low chance of being recycled due to the different types of plastics used in the handles and bristles.
 
This popular reusable palm brush provides an excellent plant-based alternative that will effortlessly clean your dishes and keep plastics out of our oceans!

The new modular design is even more Earth-friendly with its replaceable scrub heads!
Keep the handle and only replace the worn-out bristles when needed, about every 3-6 months. Stock up for less with the bulk buying options above. 
This replacement scrub head is also used on our Modular Dish Brush and comes in two textures.
Wooden Handle & Bristle Fibers Are Plant-Based, All-Natural, & 100% Biodegradable
Long Lifespan of 3-6 months, the same as plastic brushes!
Flexible Uses: When The Bristles Start to Remain Soft When Dry, Retire It to a Household Brush and Utilize it for Cleaning Tubs, Sinks, Boots, etc.
Disposal 
Place in Home Compost or Bury in Dirt and Allow the Dish Brush to Biodegrade. 
Share
Great products
This is a second one we are buying. Its great, cleans super well and there is no need for a scouring pad
Best scrubber
I have used plastic scrubbers for a long time and was looking for a more sustainable product. I have been using this scrubber with the dish soap bar and couldn't be happier. Also, once the brush top is done, it can be composted and used in my garden!
Cutting Board cleaner
This is a sturdy brush and does a wonderful job of cleaning my wooden cutting board.
Really good bristles! No
The bristles really clean. My husband is typically skeptical of my "eco" "hippie" stuff and he complimented this one. The delivery was also really fast! Thank you!
Great Little Dish Brush
I purchased this for my vacation home, as I left mine first one behind and I didn't want to buy a plastic brush. I am trying VERY hard to not use plastic. This helps fulful my needs without plastic waste.
Really nice!
Very sturdy! Nice for quick washes for any dish really!