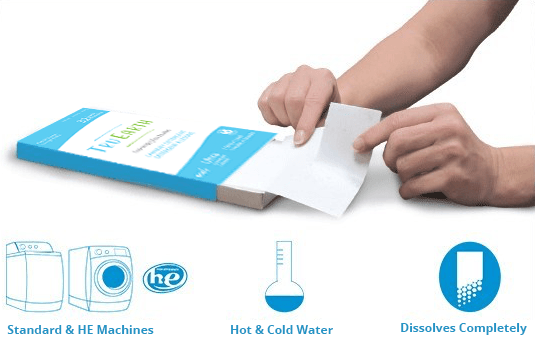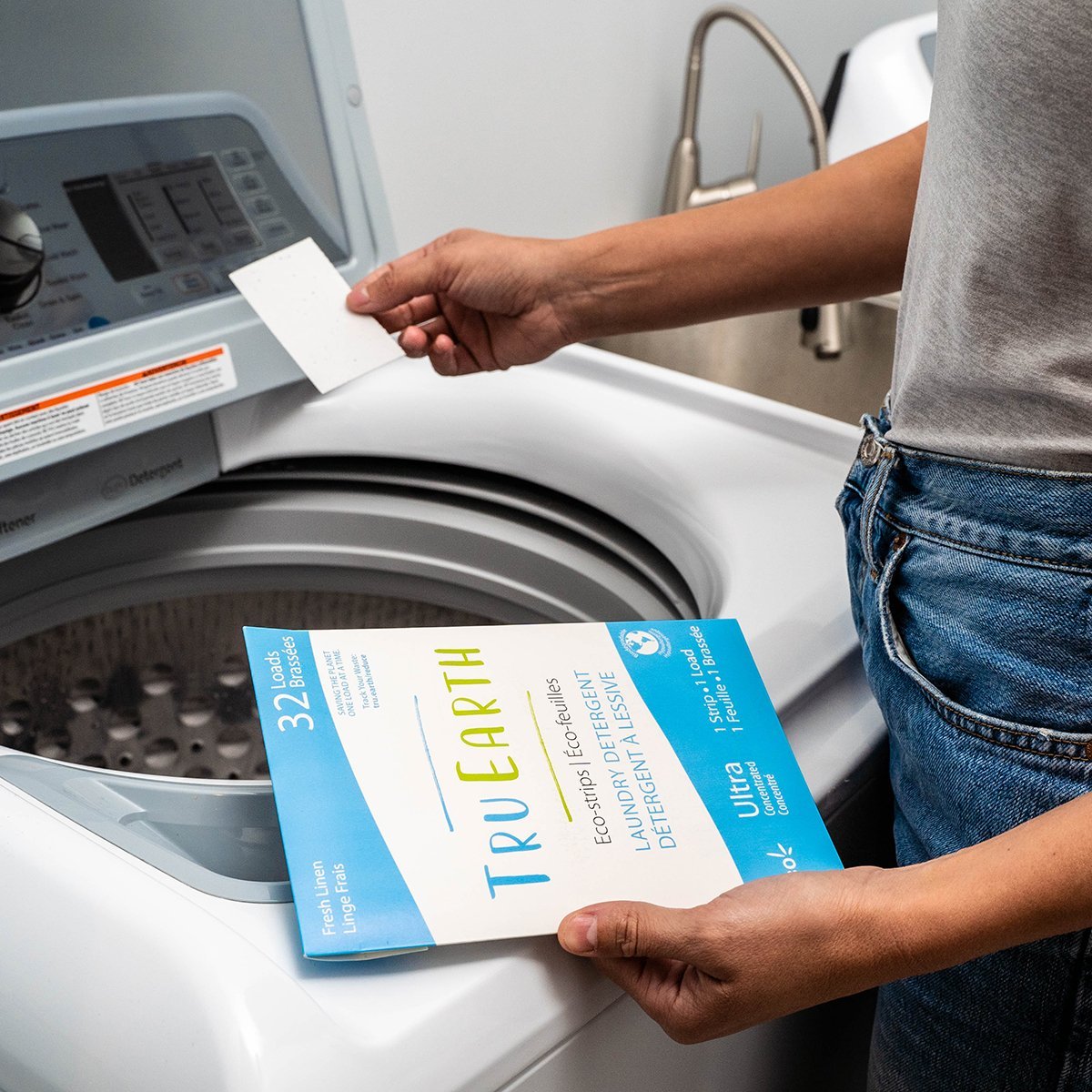 Tru Earth Eco-Strips Laundry Detergent - 32 Loads
---
---
900 MILLION. That's the number of plastic laundry containers that are thrown away each year in the U.S alone. The EPA reported that in 2018 only 29% of heavy plastics like detergent containers were actually recycled.
 
Meet the laundry solution that completely eliminates the need for plastic detergent jugs. Tru Earth Eco-Strips are 100% biodegradable and vegan paper strips of conveniently pre-measured, concentrated laundry detergent. There's absolutely no plastic involved and they come in a recyclable/compostable cardboard container.

 
Condensed Packaging: Why Pay For Plastic & Added Weight of Liquid Laundry Soap When You Can Get the Same Cleaning Power in an Easy-to-Use, Light-Weight Laundry Strip?
Earth Friendly: 100% Biodegradable and Vegan: Eco-Strips Dissolve in the Washer, So You Leave Absolutely No Traces and Generate Zero Waste!
No Residue: No More Worries About Sticky Detergent Spills In Your Cupboard or on your Laundry Machines.
What's In It?
Read the Ingredients List on the Tru Earth Eco-Strips Website.

What's NOT in it?

No Parabens
No Phosphates
No Added Dyes
No 1,4 Dioxane
No Chlorine Bleach.
 
Instructions For Use

Tear Off 1 Laundry Detergent Eco-Strip for 1 Load of Laundry.
Toss the Eco-Strip in Your Washing Machine & Forget About It. Easy!
 
Product Specfications

Compatible With Any Machine: High Efficiency (HE) and Standard.
Choose From 4 Scents:

Fresh Linen

: Our most popular scent! If you love the smell of fresh laundry, this is your perfect scent. It may be a bit overpowering for people sensitive to strong smells.

Lilac Breeze

: Gently scented Lilac Breeze is a sensory delight, evoking memories of fields of fresh lilacs in a warm summer breeze.  

Fragrance-Free

: No Fragrance. Hypoallergenic, no scent, just fresh and clean clothes.

Baby

: Free of harsh chemicals, enzymes, dyes, and artificial brighteners. We say this one is for babies, but this option is perfect for anyone with sensitive skin because it's hypoallergenic, and doesn't contain any skin-irritating chemicals.
 
You'll Also Need a set of Organic Dryer Balls to get your clothes extraordinarily soft & fresh while they dry.

Share
Easiest detergent for kids and travel
We've been using this for years. It works great when teaching kids how to do laundry and is super easy to bring when traveling! No waste!
Love your packaging
You send out the products in good time. Great products. The best minimal packaging. Thanks guys
Love it !!!
We have been using it for a couple of years now. Great quality. Will never go back to a detergent in a container
First time user
Purchased fresh linen laundry sheets. We have hard water but they suds up nicely. Laundry is clean and smells lovely. Thumbs up!
These seem very convenient
Haven't used yet but they seem very convenient. Looking forward to using them.
Reducing my plastic output one load at a time
I like the fragrance free option and have found product cleans equally to brand names. Cost is reasonable and I am not contributing to more plastic and waste in our environment. A Win-Win for everyone.