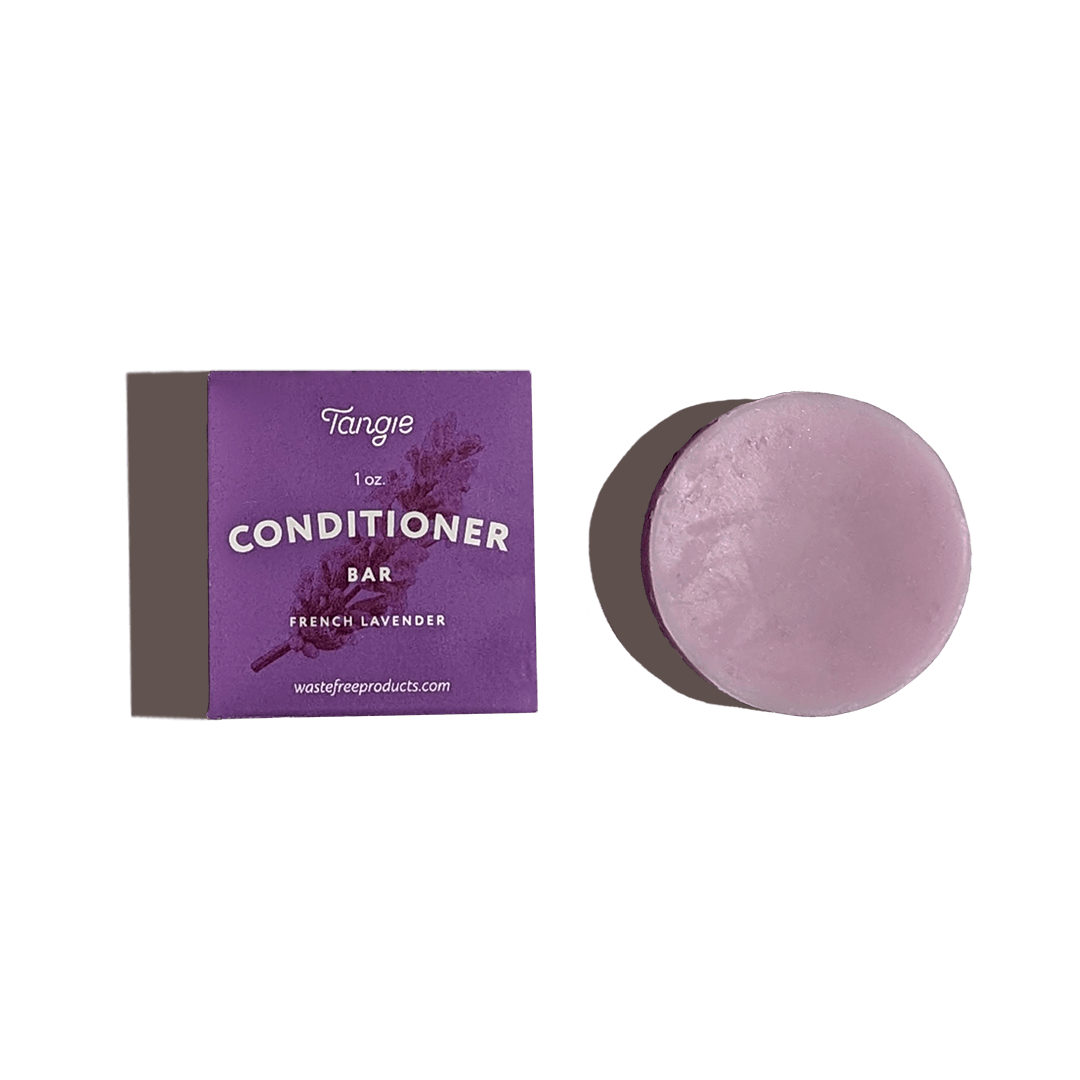 TANGIE - FRENCH LAVENDER - Conditioner Bar
---
---
If you like the smell of french lavender and are looking for a plastic-free conditioner bar, then this is your new best friend! 

This high-quality conditioner bar is made with french lavender essential oils for moisturizer, wheat germ, and jojoba oil for strength and protection against split ends. Plus, a bit of extra virgin olive oil for added softness and silkiness. 
Use as a rinse-out conditioner, leave-in conditioner, or as a conditioner mousse. With flexible options and quality ingredients, you'll never go back to using a conditioner that comes in a plastic bottle again.
Last up to 70 Washes or 3-6 Bottles of Liquid Conditioner. 
Fresh Scent of Lavender


Rinse Out, Leave, or Use as Condition Mousse (see instructions on box)

Recommended for All Hair Types



Vegan

Can Replace 4-6 Bottles of Liquid Conditioner
Handmade In The  
Need a soap dish for this conditioner bar? 
Ingredients: Emulsifier blend (Cetearyl Alcohol, Behentrimonium Methosulfate), Cocoa Butter, Cetyl Alcohol, Coconut Oil, Glycerine USP, Extra Virgin Olive Oil, Wheat Germ Oil, Jojoba Oil, Purple Mica, French Lavender Essential Oil.
Message from the supplier: 
DID YOU KNOW?
Because of the need for an emulsifier in this product, we chose to use behentrimonium methosulfate because it is plant-based. It is derived from Brassica napus Linnaeus, also known as rapeseed. 
Share
Great for Curly Hair!
My hair is naturally very curly and frizzy, I usually have to use really expensive bottled conditioners and a bunch of other serums and creams. Though this conditioner bar really gave me the same effect all the other products combined did. And this conditioner bars not only lasts longer, is better for the environment, and is cheaper. I also love the scent.
I'll definitely use this from now on.