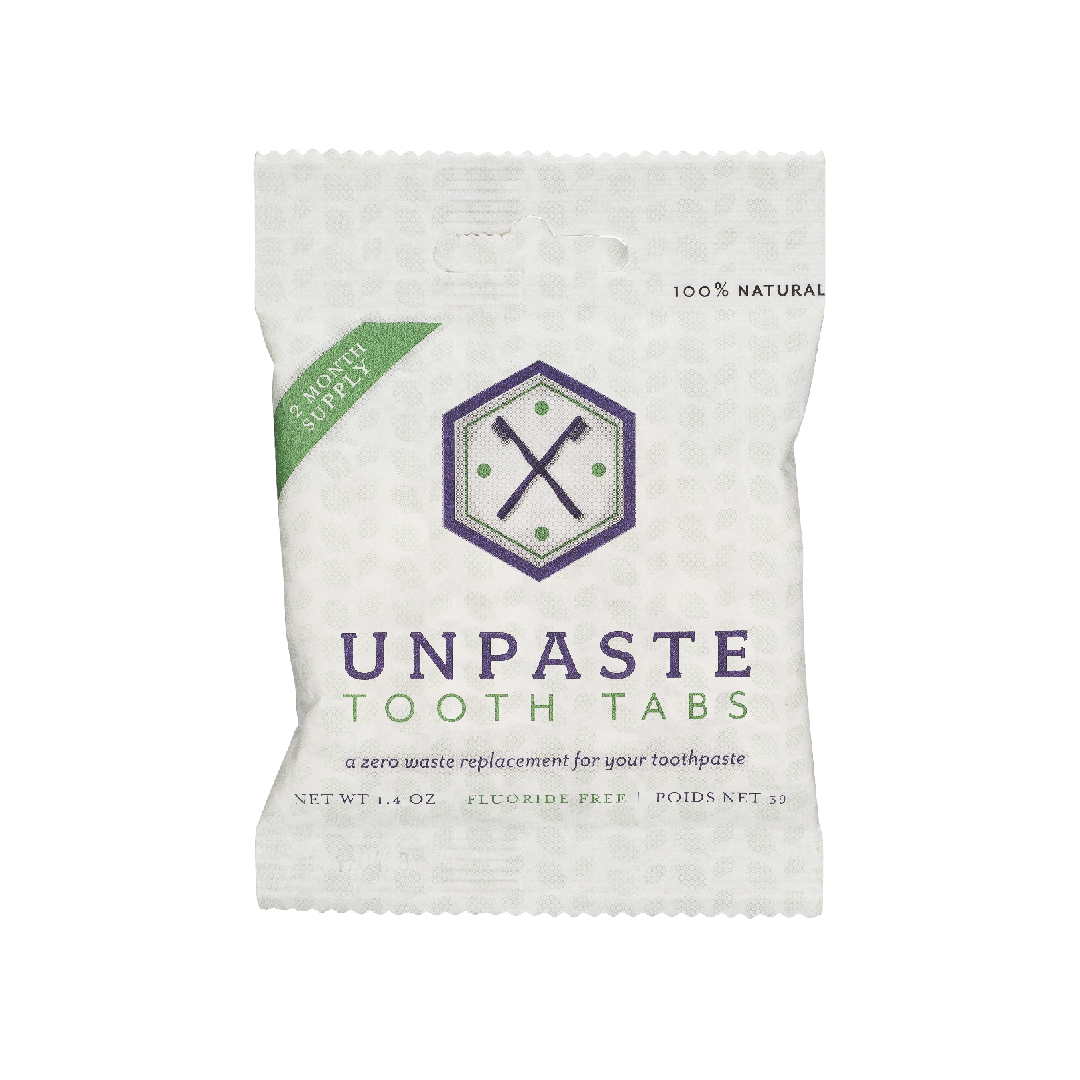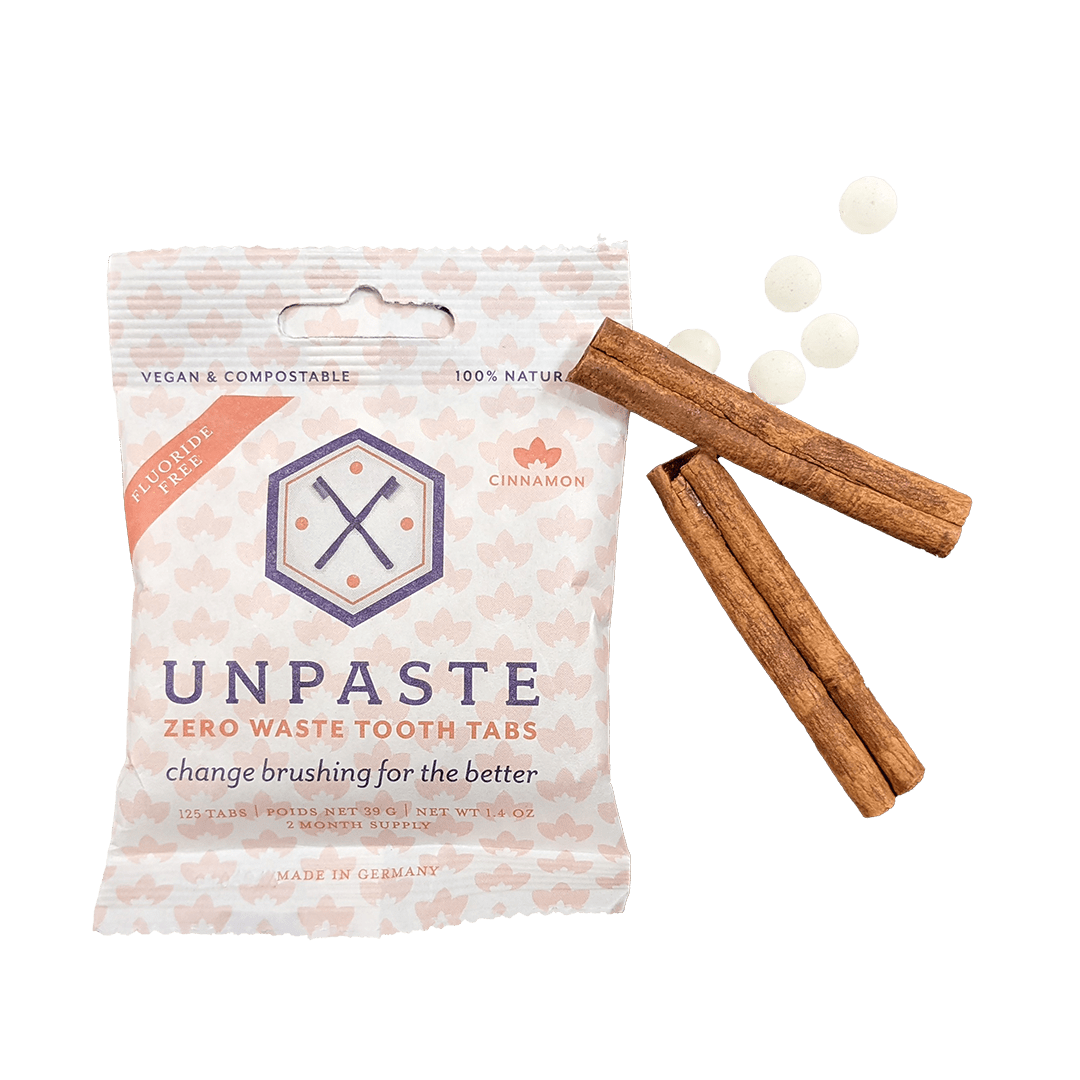 FLUORIDE-FREE Tooth Tabs - Vegan
---
---
Billions of toothpaste tubes are sitting in the landfill currently, and they just keep coming! Say no to plastic in your oral care routine with Unpaste Tooth Tabs.
This 100% plastic-free opinion is the most popular alternative to using toothpaste in non-recyclable plastic tubes.
Pop one into your mouth and chew till it is soft, then brush as normal. It's that easy! The unique formula leaves your teeth clean and polished thanks to the texture and natural ingredients. 
This is the

FLUORIDE-FREE

version.

Each Pack Has 2 Month Supply (125 tabs)
100% Plastic-Free
Recyclable Paper Packaging
Vegan & Cruelty-Free

Safe and Effective
Gently Polishes Teeth
Less Abrasive The Most Toothpaste 
No Preservatives, SLS, Sodium Saccharin, or Aluminum Nanoparticles
Need a storage container?
 

Check out this ZW jar

 

that looks great in the bathroom and holds a regular 125-tab packet.
Directions: Adults and children 6 years of age and older; Chew tablet briefly and brush teeth thoroughly, preferably after each meal or at least twice a day or as directed by a dentist or doctor. Do not swallow the tablet. • Supervise children under 6 years of age for brushing and rinsing
Inactive Ingredients: Microcrystalline Cellulose, Sodium Bicarbonate (Baking Soda), Silica Sodium Lauryl Glutamate, Magnesium Stearate, Natural Mint Flavor Menthol, Xanthan Gum. Stevia (Stevioside). Citric Acid  
Looking for the Fluoride version?
Click this link to see the Unpaste WITH Fluoride.
Complete Your Zero Waste Oral Hygiene Set
Share
No tubes for us!
So happy with this fluoride free product and great taste. Compostable packaging. Yes!
Great
Works great, feels good knowing its good for me and healthier for all.
I'm off the tube😁
Easy switch. These work great & taste good. I'm a convert.
What's taken so long for these to come to market?!?
I absolutely love using toothpaste tabs in place of toothpaste out of non-recyclable tubes. They're great at home, but equally convenient traveling. This particular brand is smaller and slower to soften/dissolve than other tabs I've used, but they work just as well. This needs to become the norm!!
A great first step
If you haven't decided how to decrease your plastic waste yet, this is the best first step! Now you can do something with all those glass jars you've been recycling too… just buy a pack of these, dump them in, and start your day and/or evening with a nice minty or cinnamon spice teeth cleansing routine. I usually just bite the pill sized paste to crack and crumble as I start brushing with a wet brush. I bought the bamboo brush as well and haven't had to worry about all that plastic going into the local incinerator (my town dumps the recycling in with the trash these days).
First time making the switch to tabs & I love them!!
I love these toothpaste tabs. It's definitely different than a tube of toothpaste but not in a bad way! It actually disperses the toothpaste much more evenly over your teeth before brushing. And the mint is a nice strong scent so you feel super fresh afterwards.
great travel tooth cleaner
No toobs, no waste. Easy to use. Great for traveling.