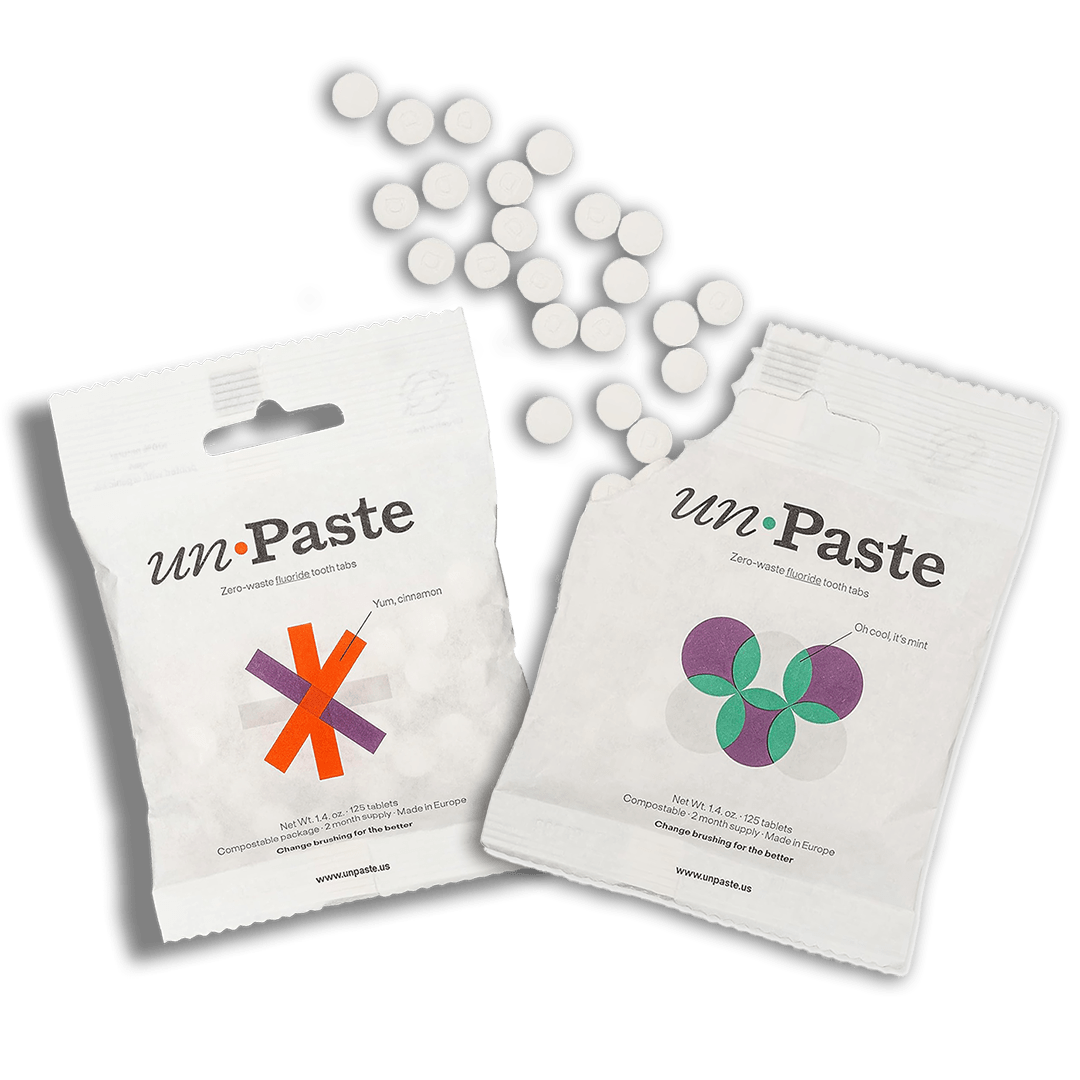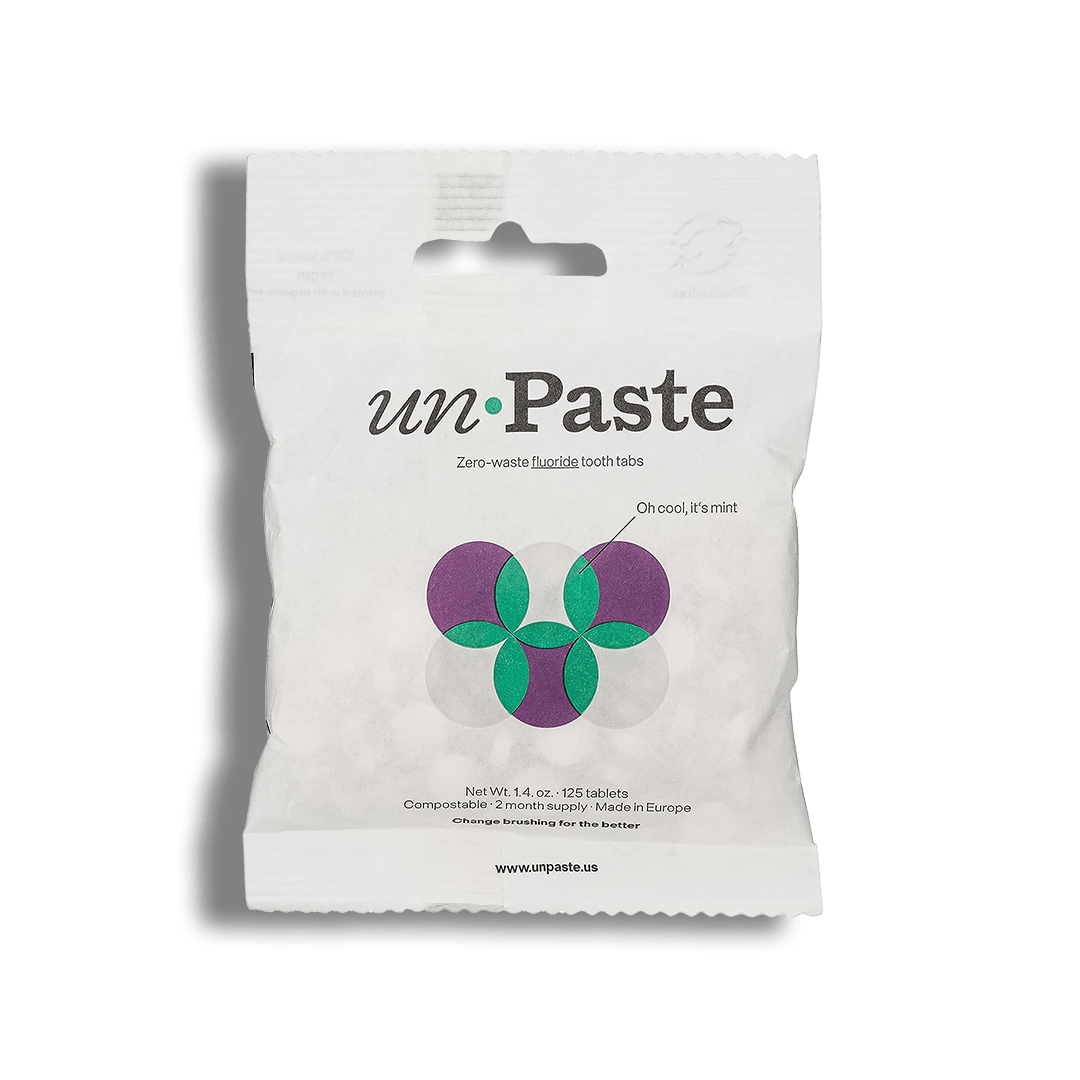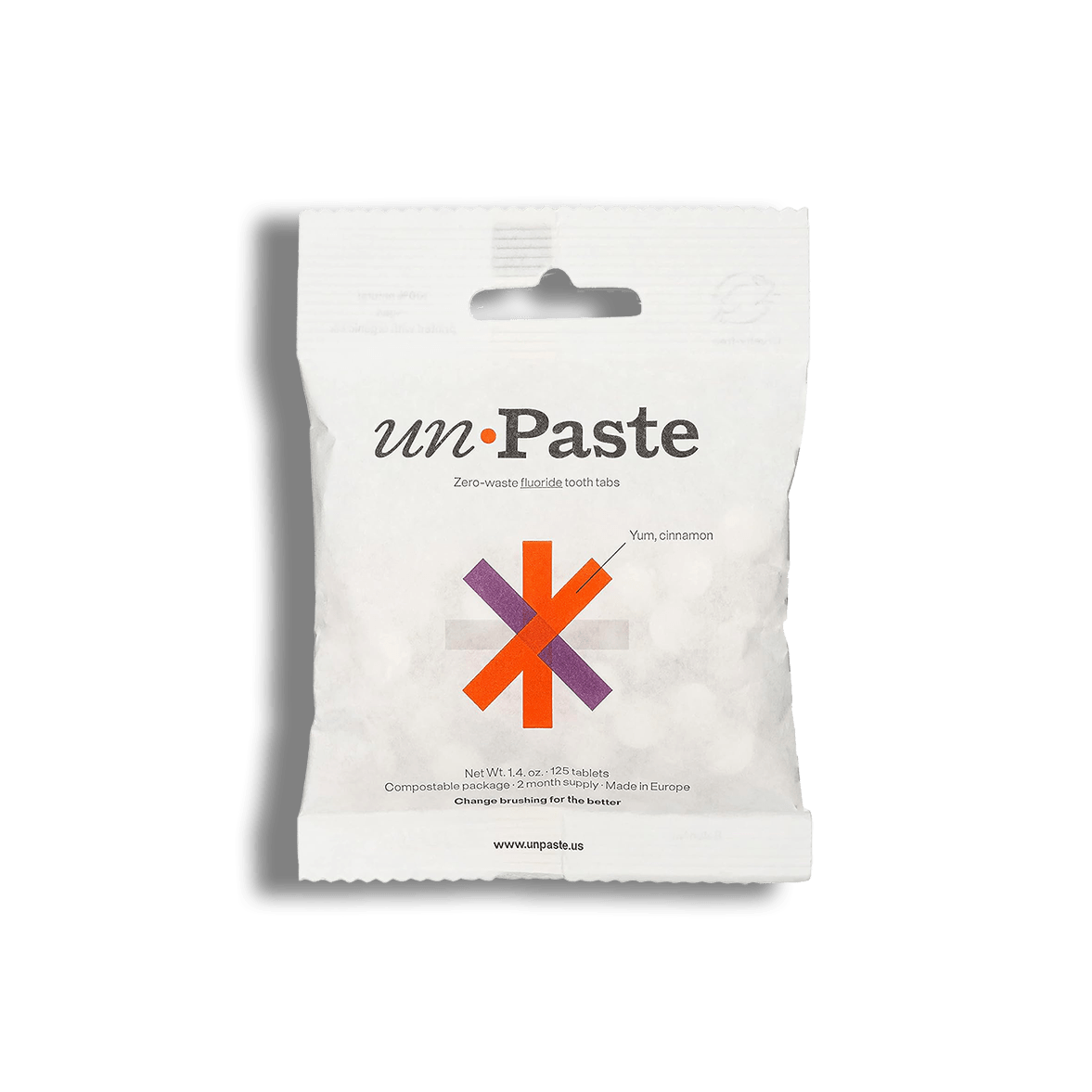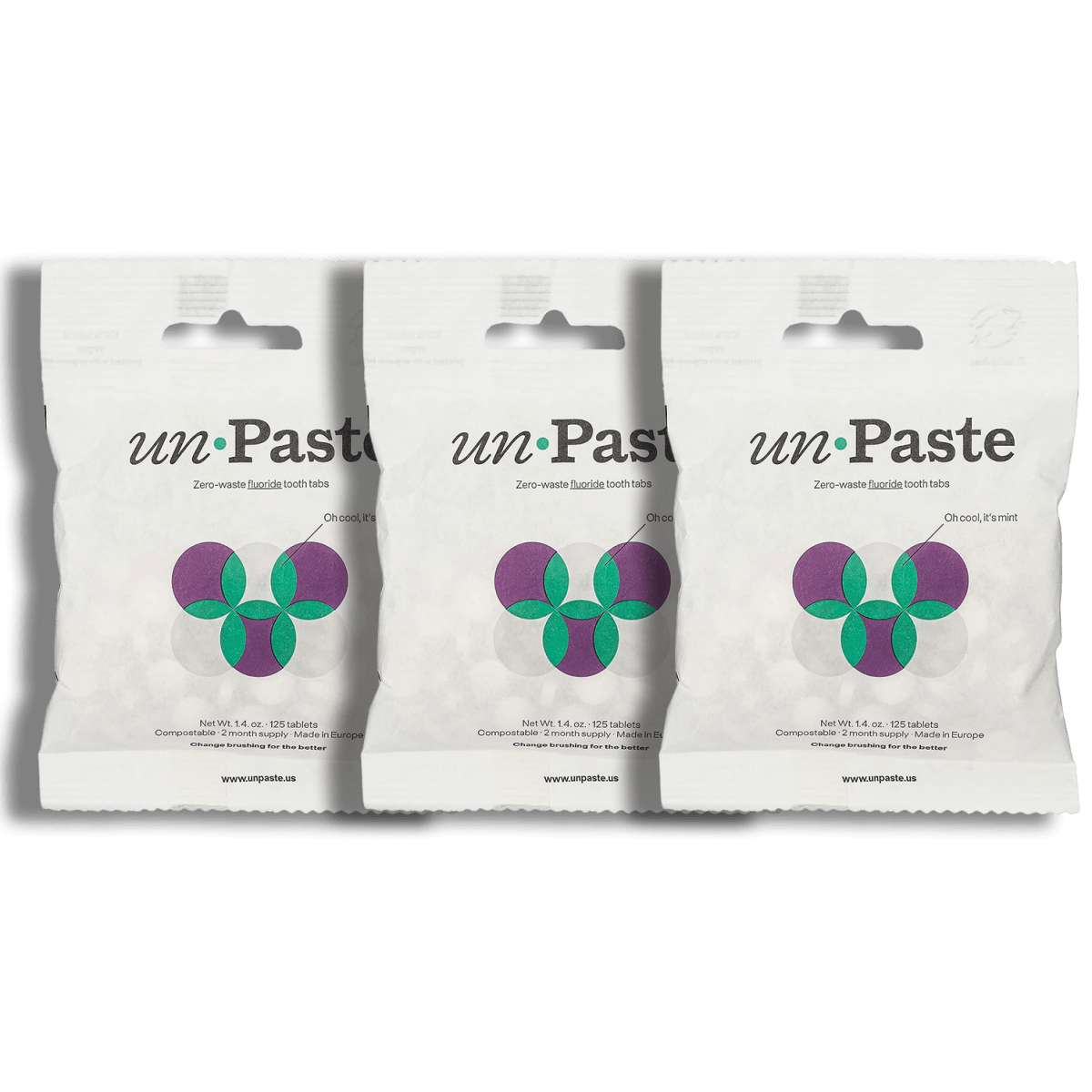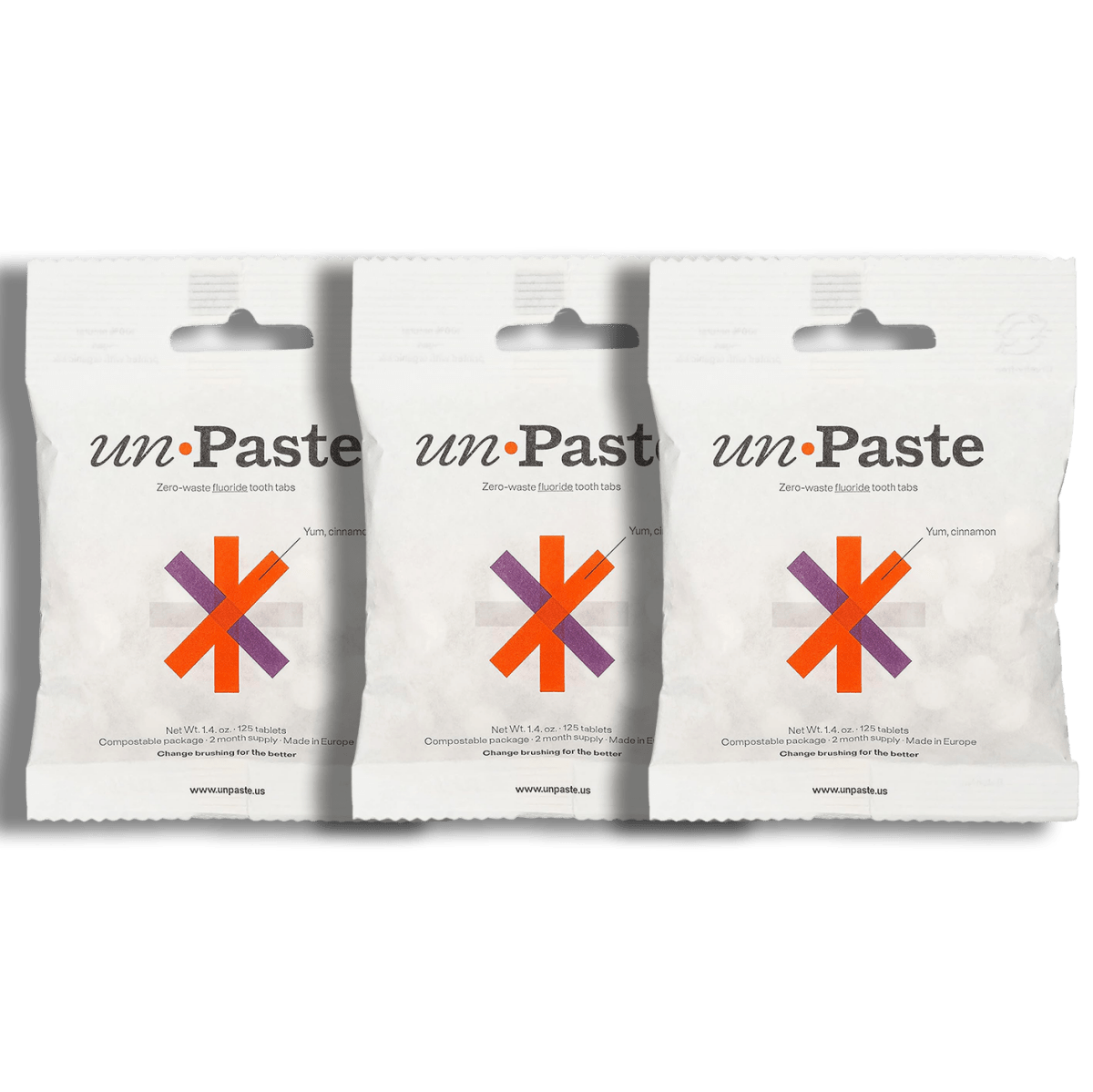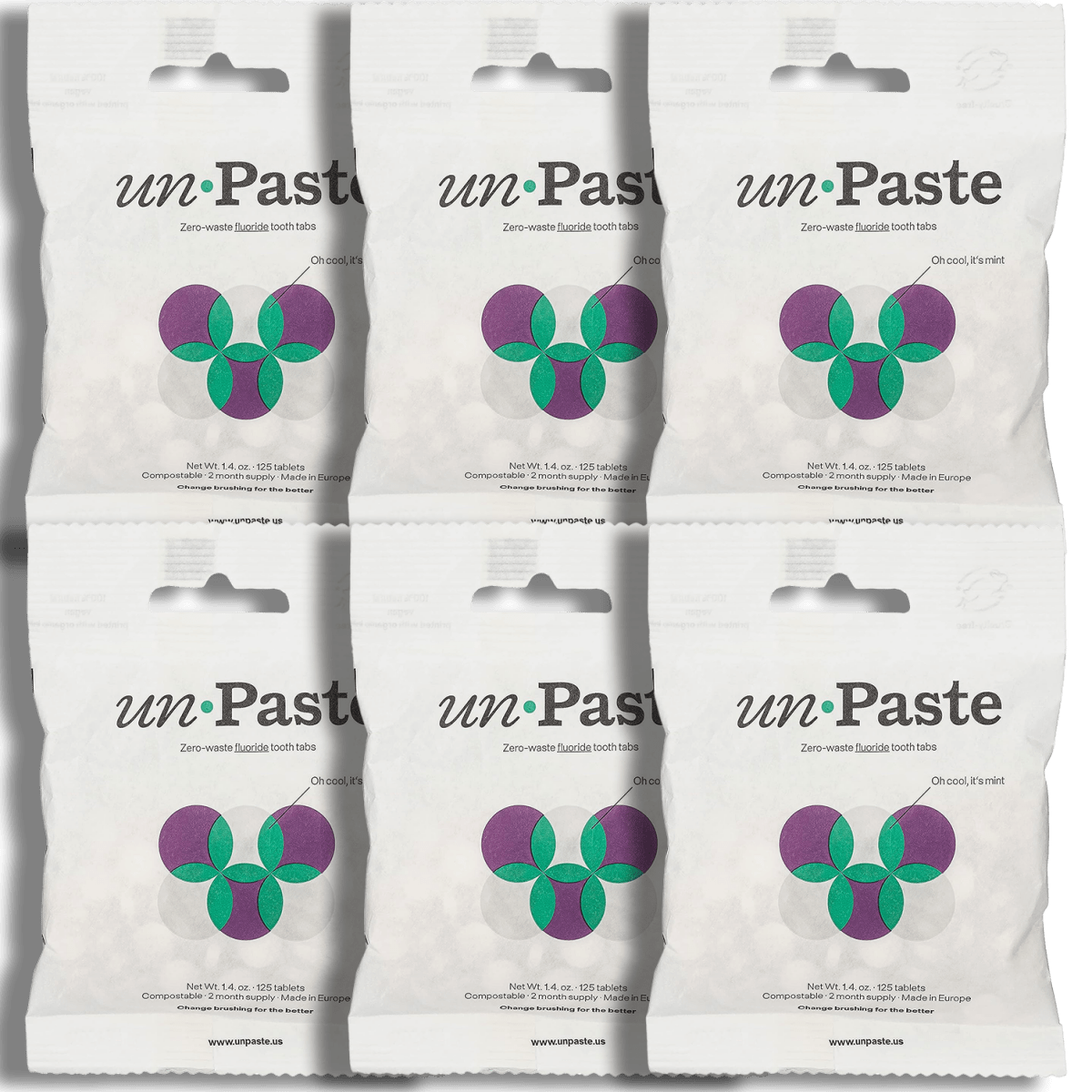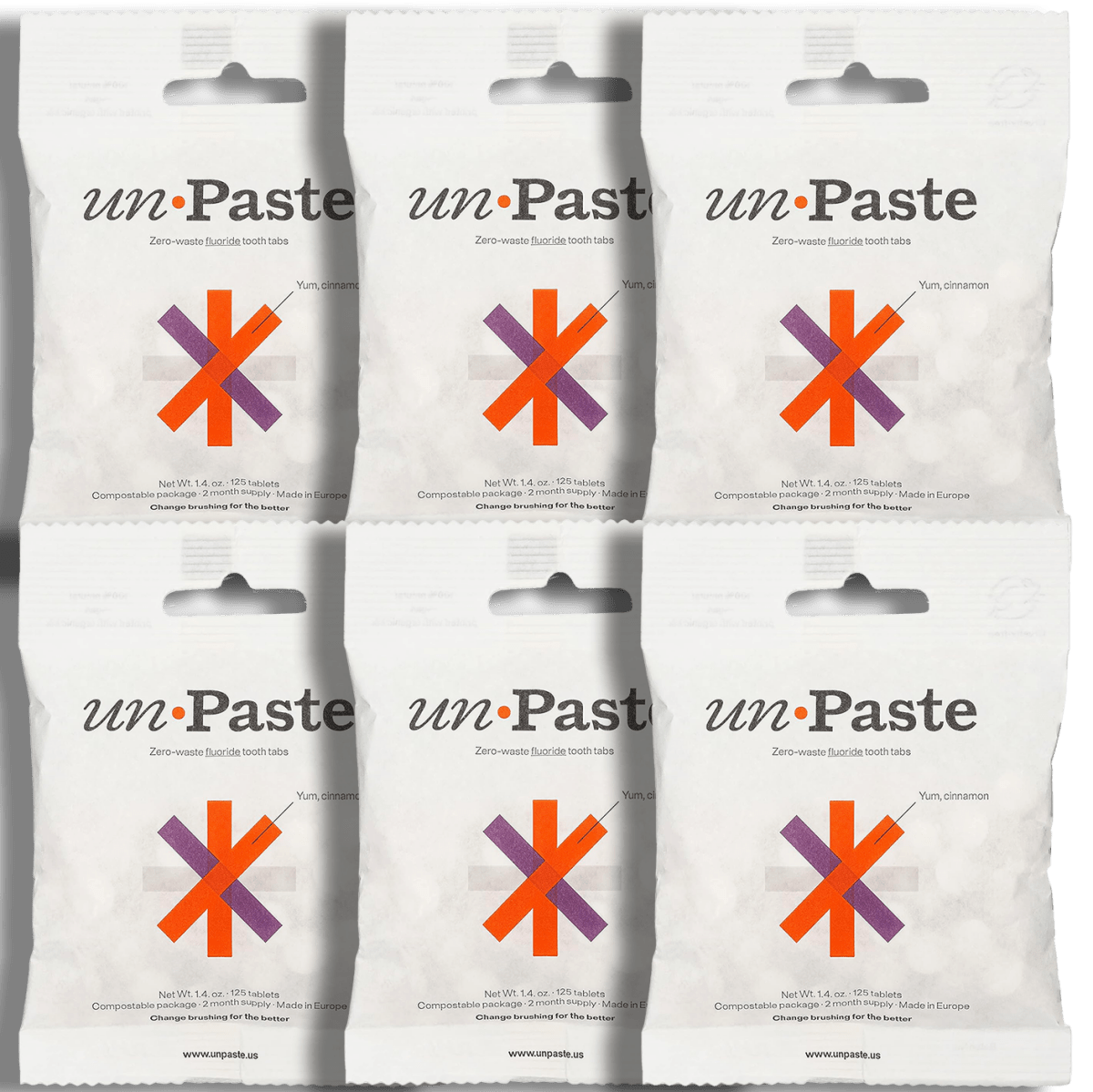 Unpaste Tooth Tabs With FLUORIDE - Vegan
---
---
Billions of used plastic toothpaste tubes are sitting in the ground right now, polluting the planet and taking hundreds of years to break down into smaller pieces of toxic plastic that will leach into the ecosystem. This madness must stop! 
One of the best solutions to this huge problem is to use Unpaste tooth tabs instead of toothpaste. These chewable tabs use absolutely no plastic and are just as safe and effective as the stuff that comes in the plastic tube. They are also 100% vegan and cruelty-free!
Simply chew a tablet until it turns into a paste and brush as you normally do; it's that easy! The unique formula polishes your teeth, leaving less room for bacteria to hide and leaving you with dentist-fresh teeth.
NOW WITH FLUORIDE! As of Aug 2020, the FDA has approved the use of cavity-fighting fluoride that was unavailable before. Now there is no reason to buy non-recyclable plastic tubes to keep your teeth healthy.
Each Pack Has 2 Month Supply (125 tabs)
100% Plastic-Free
Recyclable Paper Packaging
Vegan & Cruelty-Free

Safe and Effective
Gently Polishes Teeth
Less Abrasive The Most Toothpaste 
No Preservatives, SLS, Sodium Saccharin, or Aluminum Nanoparticles

Need a storage container?
 

Check out this ZW jar

 

that looks great in the bathroom and holds a regular 125-tab

 

packet.
Directions: Adults and children 6 years of age and older; Chew tablet briefly and brush teeth thoroughly, preferably after each meal or at least twice a day or as directed by a dentist or doctor. Do not swallow the tablet. • Supervise children under 6 years of age for brushing and rinsing
Inactive Ingredients: Microcrystalline Cellulose, Sodium Bicarbonate (Baking Soda), Silica Sodium Lauryl Glutamate, Magnesium Stearate, Natural Mint Flavor Menthol, Xanthan Gum. Stevia (Stevioside). Citric Acid
Looking for the FLUORIDE-FREE version? Click here
Complete Your Zero Waste Oral Hygiene Set
Share
Takes a little getting used to, but they work just as good as regular toothpaste.
Great alternative to conventional toothpaste
I use these 2x daily with my electric toothbrush. I put them in a glass spice jar. Easy to use and pleasant flavor. Happy with the efficient service!
Toothpaste tabs WITH fluoride
I have been on the hunt for a good humane, plastic free toothpaste for a while. It's been hard to find one with fluoride though. Maybe I'm old-school, but all the research I've found supports fluoride for re-mineralization. I am so happy with these tabs because they work well and meet all my standards for toothpaste. I will definitely buy more.
Great toothpaste!
I've been using these for years and the dentist says my teeth are in great shape!
Favorite tooth tablets
Of all the different toothpaste tablet brands I have tried these are my favorite. Nice strong mint flavor.
Unpaste tooth tabs
I'm still adjusting to a very different way of brushing my teeth, but the tabs leave my teeth feeling squeaky clean and my breath fresh. Can't ask for much more than that!
Love this toothpaste
What a great idea! Toothpaste in zero waste packaging. It works great and I like the cinnamon flavor. I'll definitely use this product from now on.
Karen