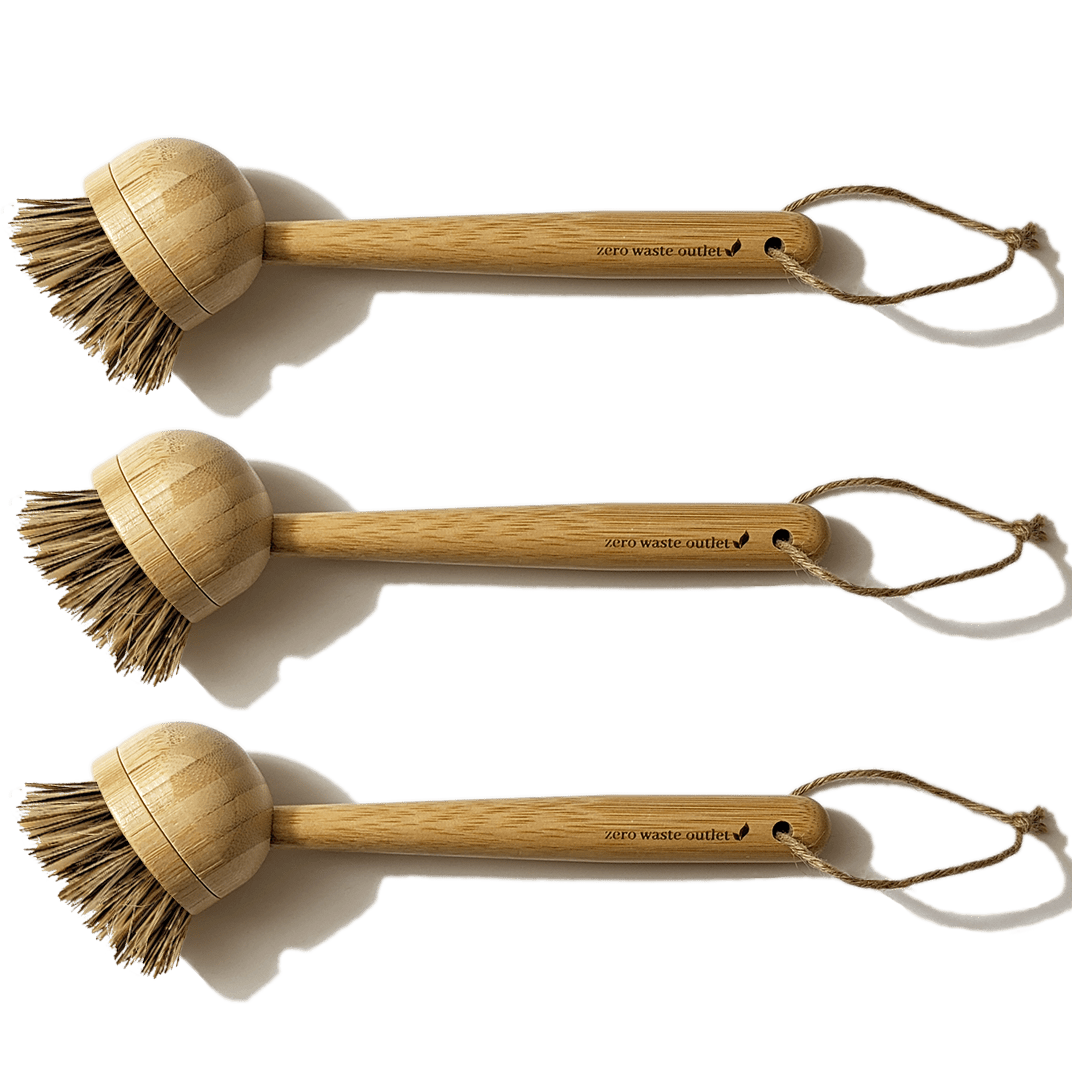 Modular Bamboo Dish Brush
---
---
Zero-Waste form and function combine to make this Modular Bamboo Dish Brush practical, eco-friendly, and stylish.
At 9 1/2 inches long with an offset handle, you'll reach those hard-to-scrub areas with ease. And best of all, when the brush head is worn, return it to the Earth by composting it, and replacing it with a regular brush head, or a heavy-duty brush head. 
This modular bamboo dish brush is a great addition to any zero-waste kitchen.
100% eco-friendly bamboo.
Both regular & heavy-duty replacement brush heads.
Off-set handle for easy scrubbing. 
Convenient loop for hang drying.
Share
looks innovative in design because it is
I was impressed with the design as soon as I opened up the package, it's awesome that a dish brush with a fully replaceable head could be made both sturdy and from biodegradable materials (and frustrating that this isn't the way it's always been!) I got both heads for this to try them out and compare and I found that the gentler replaceable head is still a bit stiffer than the half-dome brush (also from zwo) but I'm happy to find my dishwashing set with these two, with this smaller brush being for more scrubbing and that one being for gentler, everyday cleaning.
Love this
Works a treat in all respects.
A much better option
We much prefer dish brushes to sponges, but felt guilty and wasteful about plastic refill heads. This was exactly what we hoped to find, and the price point makes choosing a sustainable (and smaller business) option a no-brainer. The handle is comfortable to hold and the brush does the job great. Love the refill heads, too. Thanks so much.
Great for pre-dishwasher!
This is great for clearing plates of debris before throwing them into the dishwasher! The bristles work so well!
Best Eco Brush Out There (and Longer Lasting than Plastic)
Best eco brush. The screw in actually works (unlike the Zefiro or Mother's Nature metal ones). Brush heads last forever too, had my previous ones for two years (probably a little long, but they still worked well). They also scrape off stuff and scrub a lot better than plastic brushes or sponges, and feel a lot more sanitary. Easy to clean glasses too.
0 waste for the win!
It is absolute quality, works like a charm!!! This will be the only brush I use now. Mahalo!
Great Design
It's an excellently designed brush. I like that it has a hanging string, and I like that it's a modular design.