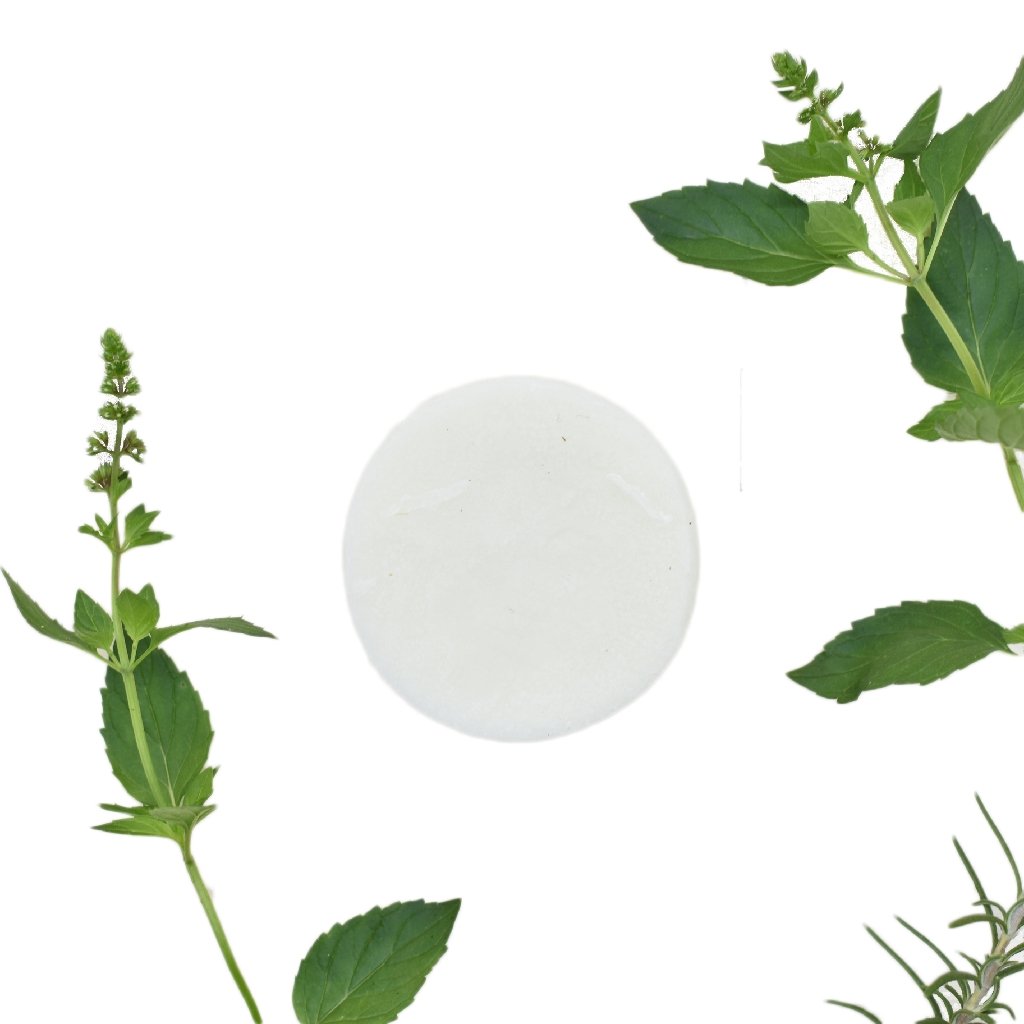 TANGIE - ROSEMARY & MINT - Conditioner Bar
---
---
Delight your hair and your nose with this refreshing and plastic-free conditioner bar. Fill your shower with the clean smell of rosemary and peppermint while you condition your hair for the day. 
Just like the conditioner you use now but in a solid bar form. Save the plastic, your shower space, and your money, all while treating your hair to a high-end conditioning routine!
This unique conditioner bar can be rinsed out completely or used as a leave-in conditioner for a soft and silky feel. The choice is yours!
Pair this with the corresponding Rosemary & Mint Shampoo Bar for a refreshing shower that will leave your hair soft and clean with a gentle scent. 
Last up to 70 Washes or 3-6 Bottles of Liquid Conditioner. 
Formulated for Heavy Hydration of All Hair Types

Fragrance: Rosemary & Mint

Vegan

No Synthetic Fragrances



Safe for Color-Treated Hair

Can Replace 4-6 Bottles of Liquid Conditioner
Handmade In The 
Ingredients: Emulsifier Blend [Cetearyl Alcohol, Behentrimonium Methosulfate), Cocoa Butter, Coconut Oil, Glycerine USP, Extra Virgin Olive Oil, Wheat Germ Oil, Jojoba Oil, Rosemary Essential Oil, Peppermint Essential Oil, Chromium Hydroxide Green
This conditioner has a matching shampoo bar!
Need a soap dish for this conditioner bar? 
Share
Great smell with amazing lather
You don't need much of this product to get a great lather. I was impressed by how slimy and smooth my hair felt after drying it. I even made my husband touch it:)
Love all the shampoos and conditioners
Still trying to figure out which is my favorite. Been using these shampoos for over a year now- really pleased with them. I have super fine hair.
Love
I'm obsessed with these bars. They are easy and just perfect. Smells great and gentle on my scalp. Lathered really well and no residue buildup. Hair feels light and smooth. Clean and looks amazing. Made with natural ingredients and no plastic bottles!
Soaping it up
These is my second Flavor of shampoo and conditioner bars. I thought having Rosemary, mint would be a nice combination. Mint sounded nice on my itchy scalp and that what it was. It is very smoothing. I have dry, and curly hair. It seems to be working very well on my hair type. Not to over drying. I've also found that I don't have to wash my hair as often. It used to be every other day I had to wash it but now I can go 3 to 4 days without having to wash it. So in my mind this is a big win for me.
Long-lasting
Although I'm sensitive to fragrances, I just had to try rosemary & mint, and I love the way it smells! Fresh but clean, without causing any adverse reactions from my lungs or skin. I use this as a shaving creme, and it's working wonderfully and lasting a long time.
Very Deep Cleaning
This was my second purchase from Zero Waste. My first purchase was for a different shampoo and conditioner bar that I actually like a lot, and made my color treated hair look and feel amazing. They did not, unfortunately, help my itchy dry scalp at all. I was hoping the Rosemary Mint would work better on my scalp, so this was my second purchase. But, these disnt work to help my scalp either. The Rosemary Mint DOES deep clean incredibly well and would be perfect for anyone who has oily hair, uses hair products daily, or wants to deep shampoo weekly. The matching conditioner is also good, but probably best suited for oily hair. It wasn't enough for my hair afyer the deep clean and I had to condition again with the conditioner I bought on my first purchase. I do love this company, and I will continue to try their products until I find the one that's right for me. My hair hasn't been this healthy since before I started coloring it.
Great replacement for the bottle
After my first use, I was a bit skeptical, but like all new things it takes some time. You have to work a little harder compared to the shampoo, but my hair feels better, my scalp feels better and there is no plastic.