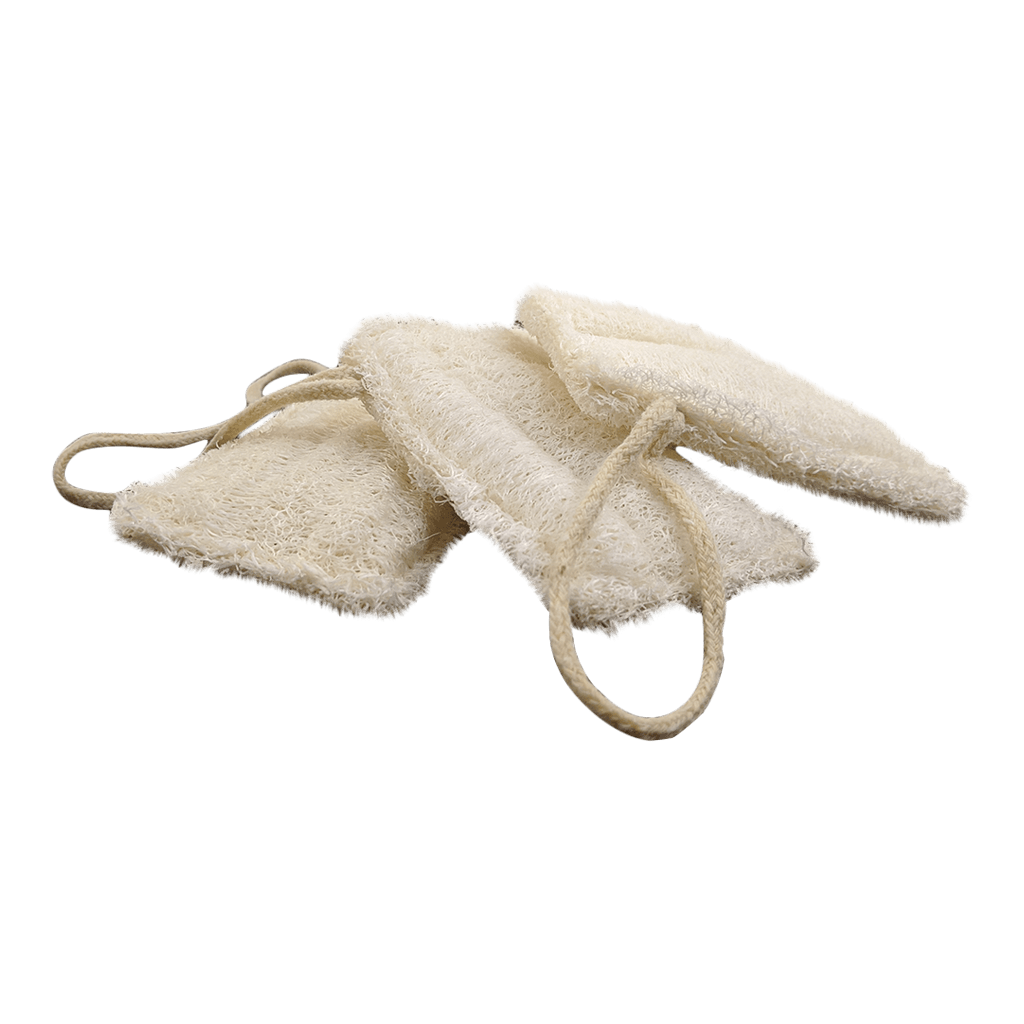 Eco Dish Washing Sponge 3 Pack - Loofah
---
---
New Improved Version! Double Layers and Cotton Loop
The perfect zero-waste scrub-sponge for dishes. This flat sponge is made from 100% biodegradable loofah and tackles food grime and grease without dumping toxic micro-plastics down the drain. 
Each loofah sponge has two layers of loofah that are sewn together around the edges so your loofah stays flat when wet. There is also a handy cotton loop that makes it easy to hang-dry on a sink handle or soap dispenser. 
Use with NOTOX Life Dish Block for a great zero-waste dishwashing duo! 
To disinfect, simply place in a pot of boiling water or microwave for 20-30 seconds! 
For extra life, let sponge drain after use to avoid mold and bacteria as it is made of plant materials. 
To dispose of, simply add to your compost or bury it in the ground!
Each pack contains 3 separate loofah sponges and each one will last several months. 
Want a cellulose sponge with this? Check out our dual-sided eco-sponge here!
Share
Works just as good as the plastic scrubbers, seems to hold up well (they are pretty durable).
Worth it! 👍
Have been using for a month and these are great!
Solid plastic-free option
First time trying these guys was impressed with how long it lasted without deteriorating. Like other natural (plastic-free) sponges I've tried, it's not quite as effective for scouring, but paired with a coconut fiber scouring brush, they get most jobs done just fine with the bar dish soap I also tried. The little loop is handy to hang dry.
Great for dishes and…
Great for dishes and general clean-up. Fits really comfortably in my hand, and the hanging tab is great for drying them.
So In Love with these sponges!!!
My daughter gifted me a sponge loofa, the pot scrubber, and the glass scrubber. I used them all quite often and my sponge was quite sad looking 🤣 This is my first purchase of my own, and I am so happy with them!!!!
Great multitasker
I have been using these loofahs for both dishes and body, and they work great for both! Rough enough to get food off the dishes but soft enough that they don't scratch or irritate my skin. I was anticipating having to "break them in" (thinking they'd be stiff at first), but that was not the case; they expanded and gave a good lather right away. I had previously been using wool sponges as my plastic alternative, but those did not work very well for my purposes. So I was glad to find these as a sustainable alternative to plastic sponges that work just as well! Also love how compactly they ship, since they're packaged in a "desiccated" state.
Better than cellulose!
I love these sponges! They are easy to use, they last longer than cellulose and they don't get stinky or mildewy! And when you're done, they can go into the compost (instead of the land fill!) I have left them soaking wet in the sink for days and they don't become smelly. I use them until I can't use them anymore and then toss them in the compost. My only tiny little complaint is there is no scratchy part to get off baked on stuff, but I solved that with washy paper washcloths (also compostable). Oh, and my kids have fun when we get a new one because they ship flat and plump up when you soak them for the first time. :-)