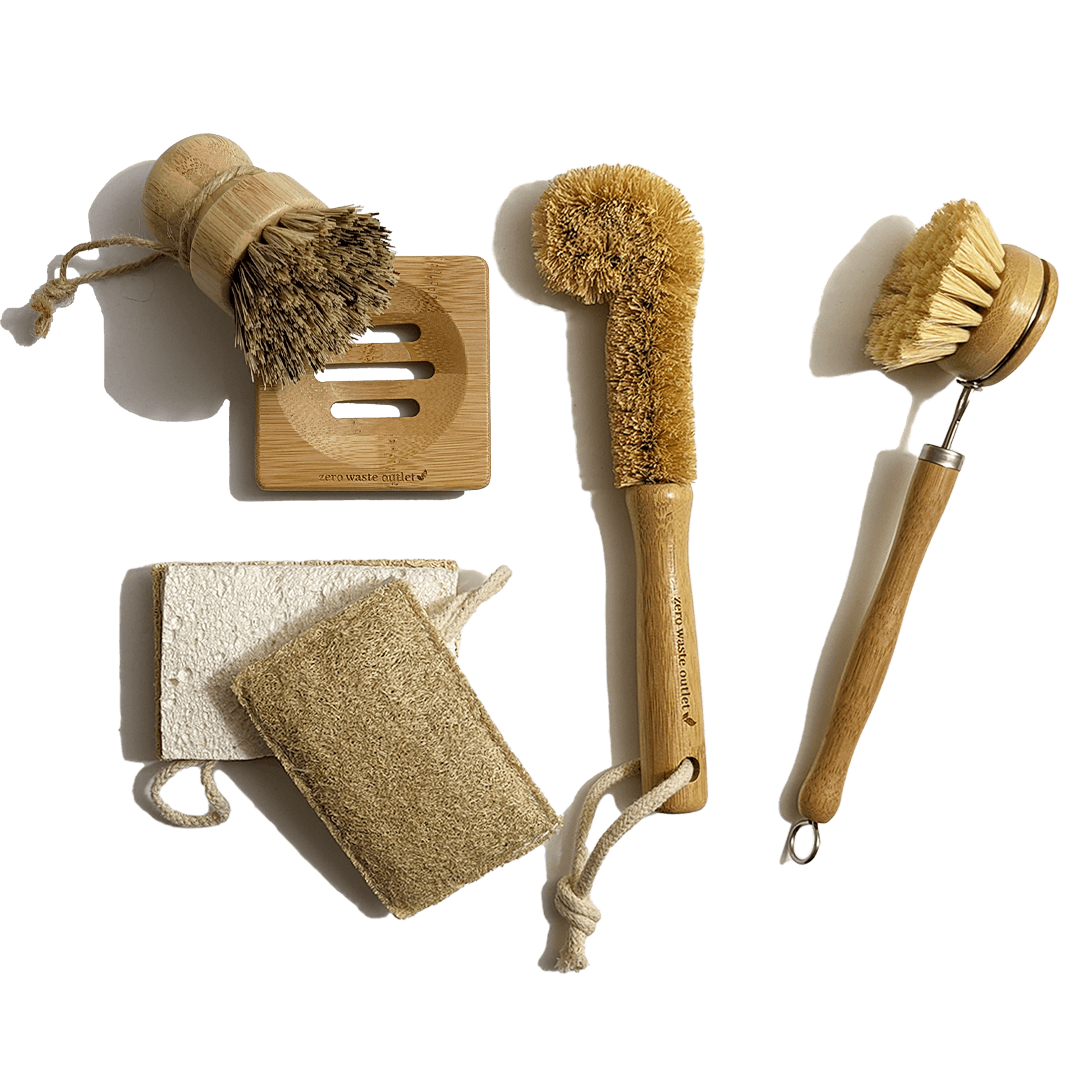 ---
---
Forget the plastic dish tools and switch to this zero waste sink kit that has everything you need to get the dishes done quickly.
Not only is this kit practical, but it also looks great, giving your sink a natural and Earthy feel that will make doing the dishes fun and relaxing. 
This Kit Includes:
Share
Love!
I bought these about two weeks ago as we're slowly transitioning plastic out of our kitchen. We love this cleaning set! I particularly love the bottle cleaner, as our baby goes through a million bottles a day. The products distribute soap well and are holding up great!
Super plastic-free products
This was a great way to get acquainted with a range of plastic-free, dish-washing alternatives. (I'm sold on bar dish soap btw, works great.) I am a fan of these loofah sponges (lasted surprisingly long, loop is handy to hang dry, like other natural sponges, not *quite* as effective at scouring but it's fine) and the lil scouring brush guy. I've used the bottle brush mostly to scrub coffee thermoses, but haven't even used the handled brush since everything else is getting the job done, and I turn to the sponge the most. Overall, a happy purchase.
Excellent for Water Bottles!
It is a constant struggle finding something to keep our water bottles clean and we have so many different sizes. This kit was perfect for that. The sponges hold up well, I love the long handles on the brushes so that my hands are never directly in the hot water. All of it is excellent!
Great and Feel Good Cleaning
The brushes are so great, and I especially like the cup/bottle brush. These make kitchen clean up enjoyable.
Great dish washing goodies!
I love these brushes! They all have a use which is super great! My favorite is the cup brush. It's become my go-to for everything! Works super well with my soap block. Really happy!!
Seriously Upped Our Kitchen Sink Cleanup Game
The brushes are excellent. They have a great feel, they're the right sizes and configurations, and the bristles make post cooking and post eating cleanup jobs much easier. Importantly, they don't scratch our utensils, cookware or plates. They also look good, which is not necessary but a plus; they're inviting and attractive to use. The loofah sponges are good, too. We'll never use anything else from here on in. Customer service and communication are terrific. Recommended.
New Fan
I love the look and feel of all the items. The bottle brush is perfect and I really love the dish brushes. Yay! Great customer service, as well.